TELESCOPE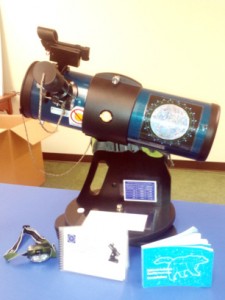 As a North Hampton Library patron who is at least 18 years old, you can check out the Orion Starblast Telescope! Explore the mysterious night sky with this powerful telescope. The kit comes with a user manual to get you started and a guide to help identify parts of our universe.
Follow the link for more information on the  NHAS Library Telescope Program 


The New Hampshire Astronomical Society's website is a great resource
The best thing that we're put here for's to see;
The strongest thing that's given us to see with's
a telescope. Someone in every town
seems to me owes it to the town to keep one.
– Robert Frost
The Star-splitter