Friends of NHPL
Why support the Friends of NHPL?
The Friends of the North Hampton Public Library continue to strive to improve our library facilities, enrich the cultural opportunities of our community and promote growth for all adults and children of North Hampton. An annual Membership Drive enables the Friends to supplement the library budget. We encourage anyone who would like to be more involved in the library to come to a meeting.
Our next meeting is Wednesday, December 20 at 9:30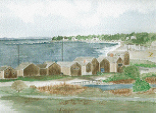 Note Cards featuring Betsey Miller water colors are now available at the library
And as always, thank you for your support!
---
If you shop on Amazon please sign up for Amazon Smile and name The Friends of the North Hampton Public Library as the non-profit you wish Amazon's foundation to give 0.5% of the price of eligible purchases
Many thanks
---
Friends of NHPL Meeting Minutes:
DRAFT November 15, 2017
October 18, 2017
September 20, 2017
August 16, 2017
July 19, 2017
June 21, 2017
May 17, 2017
April 19, 2017
March 22, 2017
February 15, 2017
January 19, 2017
November 16, 2016
October 19, 2016
September 27, 2016
August 30, 2016
July 26, 2016
May 31, 2016
June 28, 2016