New Hampshire Book Awards:
The Great Stone Face Book Award
2019-2020 nominees:
Reserve one now!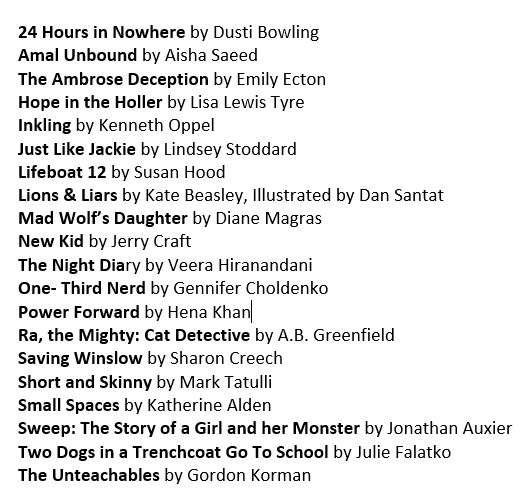 Great Stone Face – The Great Stone Face Book Award is given annually to an author whose book receives the most votes from 4th through 6th graders throughout the state.

The 2019 nominees for the Ladybug Picture Book Award are in!
Alma and How She Got Her Name by Juana Martinez-Neal
Can I be your dog? by Troy Cummings
A Couch for Llama by Leah Gilbert
The Day You Begin by Jacqueline Woodson and Rafael López
Inky's Amazing Escape: How a Very Smart Octopus Found His Way Home by Sy Montgomery and Amy Schimler-Safford
Julián is a Mermaid by Jessica Love
Saffron Ice Cream by Rashin Kheiriyeh
Thank you, Omu! by Oge Mora
The Wall in the Middle of this Book by Jon Agee
We Don't Eat Our Classmates by Ryan T. Higgins
Check them out at the library!
Ladybug – designed to promote early literacy and honor the best in recent children's picture books
Cocheco – This award is given each year to an author whose book receives the most votes from third and fourth graders in Dover.
National Book Awards
Caldecott – Awarded annually by the Association for Library Service to Children, a division of the American Library Association, to the artist of the most distinguished American picture book for children.
Newberry – awarded annually by the American Library Association for the most distinguished American children's book published the previous year.
---
North Hampton Public Library subscribes to the Library Bill of Rights. The library provides access to all library materials for all users, including internet access, within the library's policies regarding acceptable use of the internet.
NHPL offers direct, unfiltered access to the Internet, as part of its commitment to public access to information. It should be known that, in keeping with the American Library Association's statement on Library Use of Filtering Software, filtering is not employed by the nhpl. More information
This commitment to provide free unfiltered access to information for all includes, but is not limited to the nhpl public access computers, chromebooks/boxes, laptops, and any other wired or wireless device used within the library.