Time to Renew
It's Overdue


New Library Building on the Homestead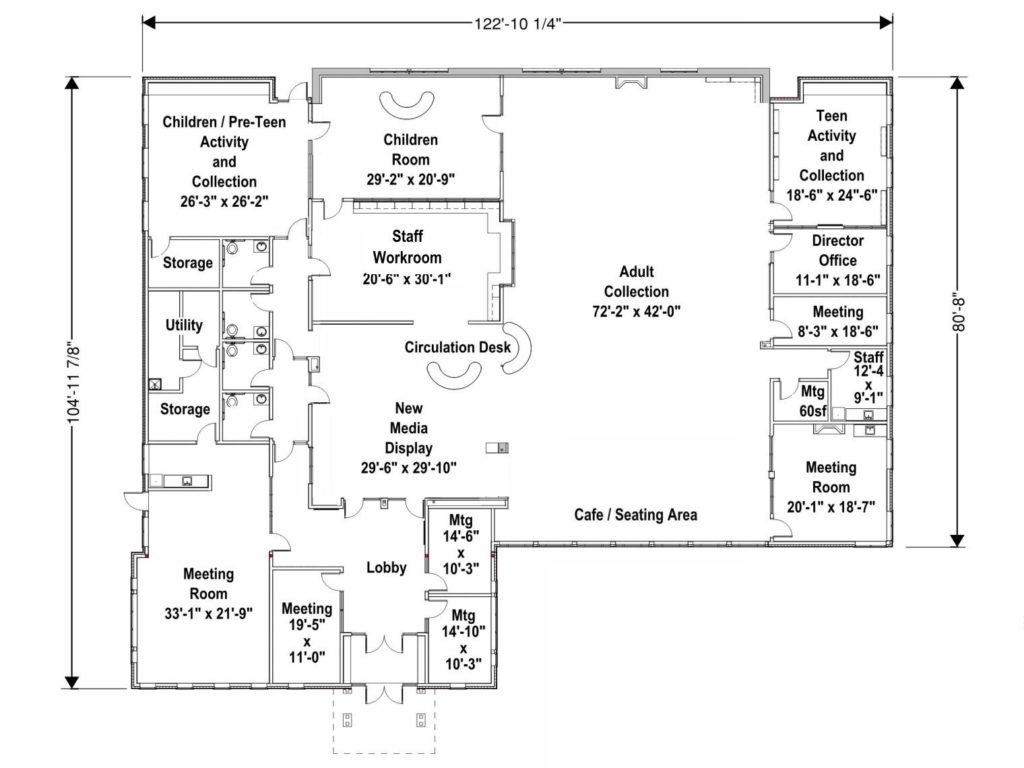 Key Features of the Floor Plan:
A well-equipped Program room for up to 80 people
Conference Room for up to 16 people with video conferencing capabilities
3 Meeting/Study Rooms for smaller group
meetings available to access after hours
ADA compliant entrances, restrooms & aisles
Larger Children's Room with adjoining activity room for patrons of all ages
Pre-teen collection & activity area
Teen/Young Adult Room
Expanded Adult area with tables and seating for reading & study
2 Quiet Study Rooms for tutoring sessions, individual study
Comfortable lounge seating with a self-serve cafe
Outdoor patio
Increased display space for exhibits, new materials & media
Public Access Computers
Open public WiFi connectivity available
Expanded functional staff work spaces
Dedicated storage areas
New Library Project Plan
In January 2020, North Hampton had two competing warrant articles – one for the construction of a new library building and another for an expanded and renovated library. At town meeting on February 1st, an amendment to the Select Board's warrant article was proposed by a member of the Budget Committee and after a secret ballot vote, the result in favor 103-10, the community amended Article #9 to build the new library on the vacant lot next to the current library building (Homestead lot) under the responsibility and authority of the Library Trustees. The Trustees unanimously voted 3-0 to support Article #9. We are grateful to the community for giving us the opportunity to build an accessible, 21st century library building to be enjoyed by North Hampton residents now and in the years to come.
How We Got Here
Established in 1892, the library was housed in the southwest corner of Town Hall. In 1895, a Board of Trustees was appointed to consider a "free public library". By 1908, the "Stone Building" was completed and used as the town library for the next 65 years. In 1973, the Library moved to the building that houses it today. The Trustees have been working on improving the current building since 1997. In March 2017, the Trustees began implementing a plan to expand and renovate the library on its current footprint.
Who We Are
Library Trustees
The NHPL is governed by a group of citizens to whom the public library is entrusted: 3 volunteers elected by voters serve 3 year terms
Library Staff
A Library Director and 2 other full-time staff members, 6 part-time employees serve the entire community of 4,600 residents

Open 6 days a week, average 1,600 people visit monthly
NHPL's $407,540 operating budget is provided by the Town. Other financial support derives from grants, contributions from private donors, copier use, book sales & donations to our Friends and Foundation organizations.
Space Constraints
At the current 5,625 square feet, the most pressing problem is lack of space for:
Entrances, aisles and restrooms do not meet standards of the Americans with Disabilities Act and do not accommodate patrons using wheelchairs and walkers, and parents with strollers
Quiet reading areas, individual or small group meeting spaces
A dedicated Children's Room and Activity Center for patrons of all ages
A meeting room that seats more that 40 adults that does not double as storage
A staff break room and separate offices for Youth Librarian and Assistant Director
Spaces for displays of local history collections, art, informational brochures, new books, DVDs, activity kits and new items
Storage spaces (staff room, hallways & meeting areas are currently used for storage space)
Teen Area (current teen area is used for quiet study space/small conference room/town records storage
Insufficient number of electrical outlets and charging stations and Wi-Fi is spotty in areas of the library
The current library built in 1973 was designed to fill the needs of the town for 30 years. The Library Board of Trustees began planning in 1996 for a new library. Over those years, several combined attempts to include construction of a new library with a new Town Campus were advanced, but failed to achieve the required 60% voter approval.
Cost & Project Schedule
Warrant Article #9, makes possible a new library building that will be constructed with a new septic, water drainage plan, and additional parking. Lavallee Brensinger Architects have modified the current library architectural renderings and construction documents to build a new Library on the vacant lot next door – the Homestead. Bonnette, Page & Stone has updated the GMP (guaranteed maximum price). The total Bond amount of $2,275,000 would have a tax impact on a home with a value of $400,000 of approximately $40 per ($0.10 per $1000).
The total cost for the new 11, 155 square foot library project is $3.9 million which will be offset by Library Capital Reserve Building Funds of $780,000, generous donations from the community of $300,000 and the town unassigned fund balance of $545,000.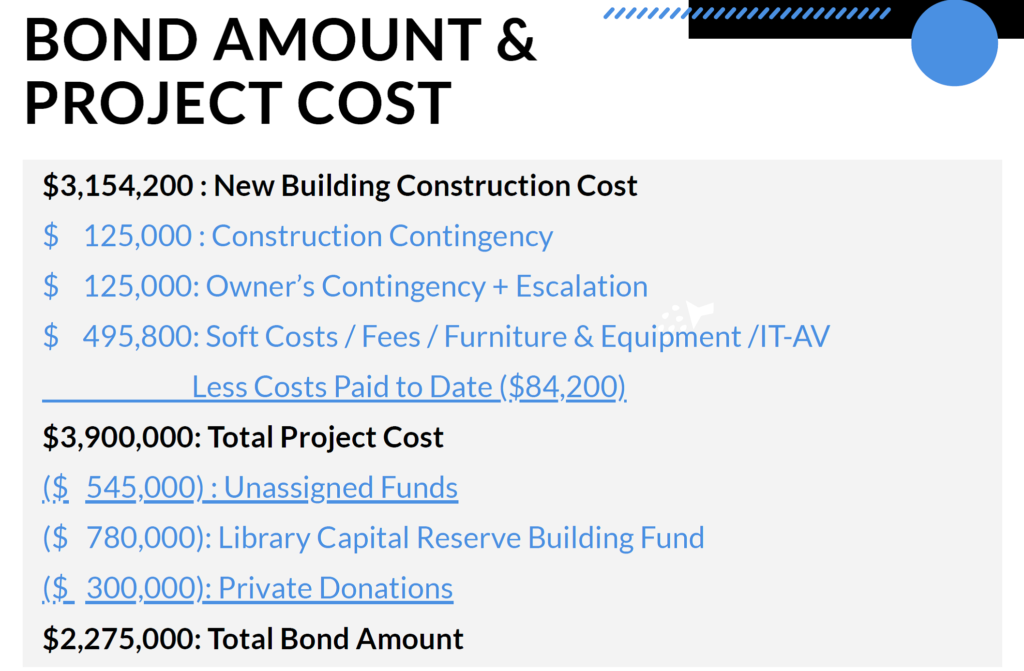 The need for a modern, larger, comfortable and functional Library has been widely recognized in the community for many years. The proposed project is a partnership with the Town of North Hampton, a combination of public funding and donations from a variety of private sources. This is a common and successful collaboration in many New Hampshire and New England towns. The advantage is two-fold: it reduces taxpayers' share of the costs, and gives willing benefactors the opportunity to give back to their community and to create a meaningful legacy for future generations.
The fundraising initiative is being conducted under the auspices of the North Hampton Public Library & Cultural Center Foundation, a separate 501(c)(3) nonprofit organization. Donations are tax-deductible to the extent allowed by law.
---