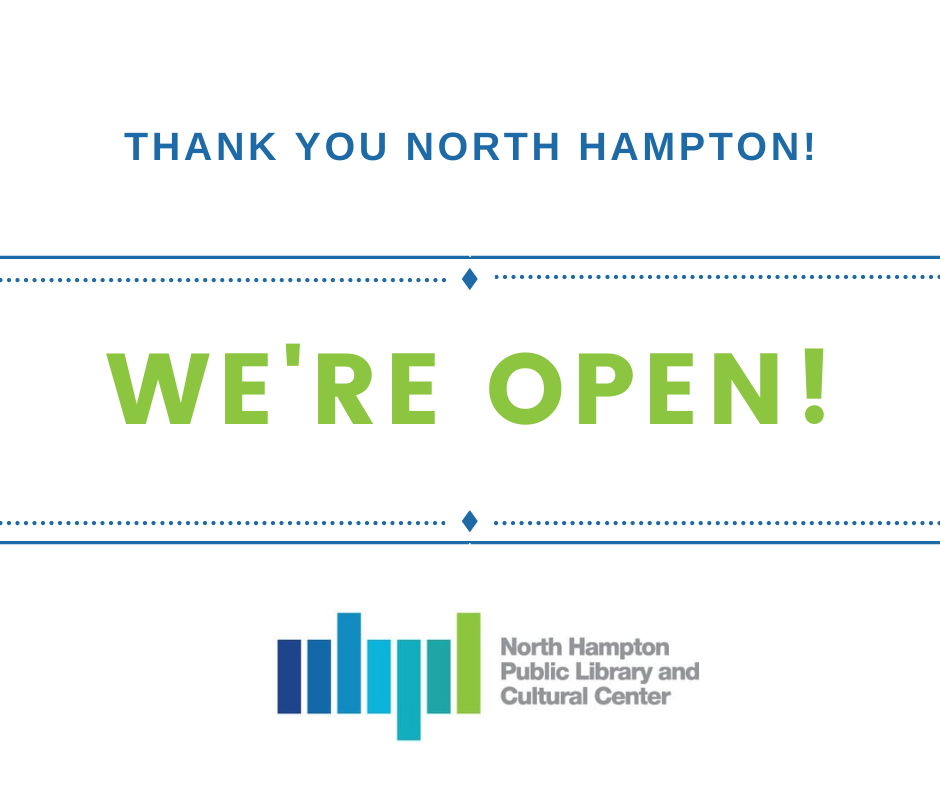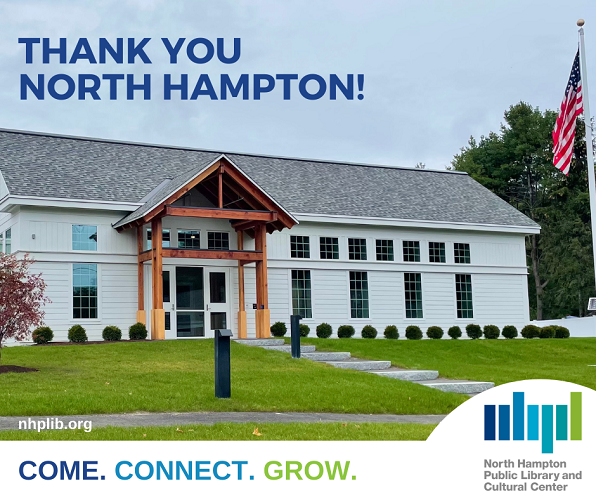 Project Information
Check out this link for the latest pictures of the construction project!
Learn more about key features of the new library design here, https://townhallstreams.com/stream.php?location_id=35&id=28863 (30:35)
Interior Design
Architectural Field Reports
North Hampton Planning Board Meeting Documents
Public Hearing
Legal
New Library Building Placement:
Driveway
Energy Improvement Upgrades
New Library Project Plan
In January 2020, North Hampton had two competing warrant articles – one for the construction of a new library building and another for an expanded and renovated library. At town meeting on February 1st, an amendment to the Select Board's warrant article was proposed by a member of the Budget Committee and after a secret ballot vote, the result in favor 103-10, the community amended Article #9 to build the new library on the vacant lot next to the current library building (Homestead lot) under the responsibility and authority of the Library Trustees. The Trustees unanimously voted 3-0 to support Article #9. We are grateful to the community for giving us the opportunity to build an accessible, 21st century library building to be enjoyed by North Hampton residents now and in the years to come.
The need for a modern, larger, comfortable and functional Library has been widely recognized in the community for many years. The proposed project is a partnership with the Town of North Hampton, a combination of public funding and donations from a variety of private sources. This is a common and successful collaboration in many New Hampshire and New England towns. The advantage is two-fold: it reduces taxpayers' share of the costs, and gives willing benefactors the opportunity to give back to their community and to create a meaningful legacy for future generations.
The fundraising initiative is being conducted under the auspices of the North Hampton Public Library & Cultural Center Foundation, a separate 501(c)(3) nonprofit organization. Donations are tax-deductible to the extent allowed by law.
How We Got Here
Established in 1892, the library was housed in the southwest corner of Town Hall. In 1895, a Board of Trustees was appointed to consider a "free public library". By 1908, the "Stone Building" was completed and used as the town library for the next 65 years. In 1973, the Library moved to the building that houses it today. The Trustees have been working on improving the current building since 1996.
The current library built in 1973 was designed to fill the needs of the town for 30 years. The Library Board of Trustees began planning in 1996 for a new library. Over those years, several combined attempts to include construction of a new library with a new Town Campus were advanced, but failed to achieve the required 60% voter approval.
Who We Are
Library Trustees
The NHPL is governed by a group of citizens to whom the public library is entrusted: 3 volunteers elected by voters serve 3 year terms
Library Staff
A Library Director and 2 other full-time staff members, 6 part-time employees serve the entire community of 4,600 residents

Open 6 days a week, average 1,600 people visit monthly
NHPL's $407,540 operating budget is provided by the Town. Other financial support derives from grants, contributions from private donors, copier use, book sales & donations to our Friends and Foundation organizations.
Cost & Project Schedule
Library Capital Reserve Fund was established on March 14, 2006.
Article 29.
On petition of the three Library Trustees, Linda Hillier, Emily Creighton, Stephen Miller and at least 25 other registered voters of the Town of North Hampton:
Shall the Town vote:
1. To establish a Library Capital Reserve Fund for planning and construction of a library addition or new building
2. To raise and appropriate the sum of fifty thousand dollars ($50,000) to be placed in this fund, further
3. To appoint the Board of Library Trustees as agents to expend from this fund.
If appropriated, the Board of Library Trustees will match this amount ($50,000) from its invested funds resulting in a total of $100,000 to plan for future accommodation of our library's present need for space to adequately provide information, technology, programming for adults and children, and community meeting room space.
To serve the common good of our community, it is necessary to have a Library Capital Reserve Fund separate from the Town Capital Reserve Building Fund. This Fund will allow us to prudently save for our community's quality of life needs while ensuring that these needs do not compete with public safety monies. Our Library services give back to us, make all our lives better, and unify us as a community of informed citizenry.
Library Warrant Articles:
2006 –Established Library Capital Reserve Building Fund. Warrant article approved for $50,000 with matching funds.
2007– Warrant article approved for $50,000 in Library Capital Reserve Building Fund, with $50,000 matching funds from library donations.
2008– Warrant article approved for $50,000 in Library Capital Reserve Building Fund, with $50,000 matching funds from library donations.
2010– Warrant article approved for $50,000 in Library Capital Reserve Building Fund, with $50,000 matching funds from library donations.
2013– Warrant article approved for $50,000 in Library Capital Reserve Building Fund
2017– Citizen's petition warrant article approved for $75,000 in the Library Capital Reserve Building Fund
2019 – Voters approved $100,000 warrant article with $100,000 matching funds from library donations
2019– Citizen's petition approved for $375,000 to be placed in the Library Capital Reserve Building Fund from unassigned funds.
2020– Warrant Article 9 Passes!
10% Budget Limitation Rule
When articles are amended at deliberative session and total appropriations increase, there is a limitation that the Department of Revenue Administration will allow a town to appropriate. The total appropriation amount cannot exceed 10% of the total amount of all the warrant articles that were recommended by the budget committee when the warrant was posted prior to the deliberative session.
Bond Approved
Library Trustees
202-A:6 Library Trustees; Election; Alternates. – The library trustees shall have the entire custody and management of the public library and of all the property of the town relating thereto, including appropriations held pursuant to RSA 202-A:11, III, but excepting trust funds held by the town. Any town having a public library shall, at a duly warned town meeting, elect a board of library trustees consisting of any odd number of persons which the town may decide to elect. Such trustees shall serve staggered 3-year terms or until their successors are elected and qualified. There may be no more than 3 alternates as provided in RSA 202-A:10.
Source. 1917, 59:1. PL 10:52. RL 15:55. RSA 202:6. 1963, 46:1. 1987, 89:1. 2000, 9:2, eff. April 16, 2000.
---